About Achlada village (5km from Agia Pelagia) Crete Island GREECE
Achlada traditional rural village on Crete (at 6,2km from Agia Pelagia)
Achlada is a village in the municipality of Malevizi in the prefecture of Heraklion, Crete. It is built at a distance of 23 kilometers northwest of Heraklion. According to the 2011 census data, the population of the village amounts to 57 permanent residents, who are mostly farmers and shepherds.
The village is built on the top of a fortified hill in the middle of a beautiful mountain landscape, high above the bay of Agia Pelagia tourism resort, at an altitude of 307 meters, an area with a wonderful climate. Its name is plantamic - takes it from the wild boar tree (called pear) that can be found native in many places around the village. According to the local tradition, the settlement was named after a large wild pear that existed on the area. It is referred to as Achladha in Venetian documents of 1630. Achlada is a typical Cretan farming village where mostly garden vegetables and olive trees groves are harvested and few land plots of vineyards. Τhe village offers excellent views over land and sea.

At Medieval times, during the Venetian occupation of Crete, Achlada village was a feud of the Modinos family with 63 inhabitants, the settlememnt had 35 houses and 2 churches and later, according to the census conducted by the Ottomans in 1671 (two years after the occupation of Crete), was part of the Malevizi province. According to the unofficial measurement drafted in 1875 by the Russian counterpart, Ioannis Mitsotakis, 60 families were inhabited in Achlada and its population amounted to about 300 people. Walking through the narrow streets of the village it becomes clear that the village was built like a fort so as to defend from attacks, especially by pirates (in the older times pirate attacks constituted a big problem for the wider region and the broader Mediterranean area).
During the last decades there has been a significant decrease in the population of Achlada due to the relocation of the inhabitants to neighboring settlements such as Agia Pelagia and Lygaria. There are now no cafes, shops, or restaurants left in Achlada, everything is in Agia Pelagia bay, Lygaria bay, Mononaftis and Made (in the seaside). The majority of the population of the village now lives and works in the coastal resort.
Nowadays, among other attractions and beauties of the village, the main attractions of Achlada are the double holy temple of Agios Ioannis (Saint John) & Agios Tryfonas, with remarkable wood-carved iconstasi added in the year 1860 which is of great beauty. The church's foundation dates back to the Venetian domination. Other spots to visit are the stone fountains on the north side of Achlada (the oldest of which was built in 1746 - one of the most impressive on Crete - and the most recent in the early 20th century) as well as the ruins of the village of Kantinos (with 48 houses, 5 churches and 2 windmills).
Achlada is the base Municipal District which consists of seven settlements and had 1.080 inhabitants overall based on the 2001 census.
These settlements are:
Achlada
Agia Pelagia
Ammoudi
Lygaria
Made
Mononaftis
Xerokambos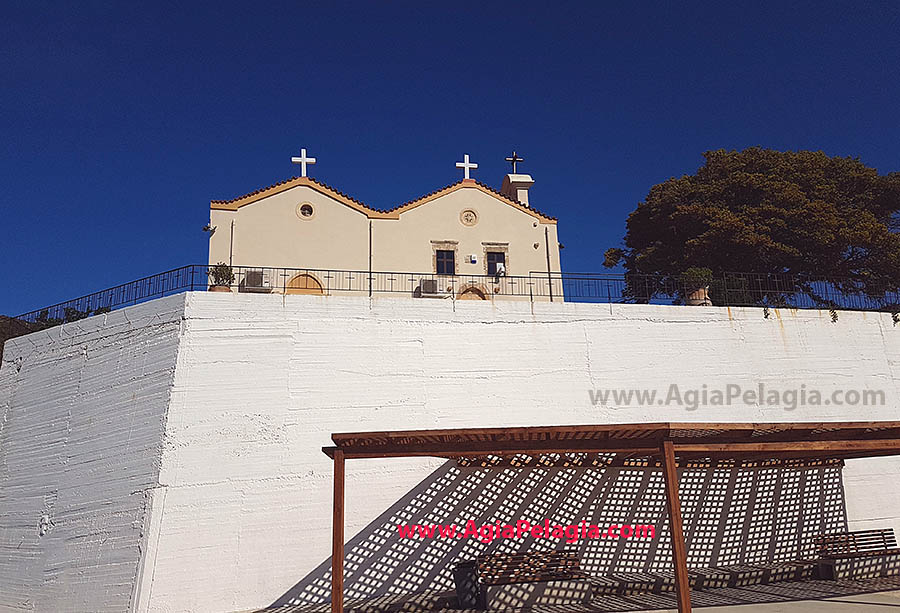 The Church of Agios Ioannis (Saint John) in Achlada, at the central sqare of the village
Panoramic view of the village of Achlada, from east to west
the nature just outside Achlada village
HOTELS Bookings in ACHLADA Agia Pelagia - search, compare and book online hotels