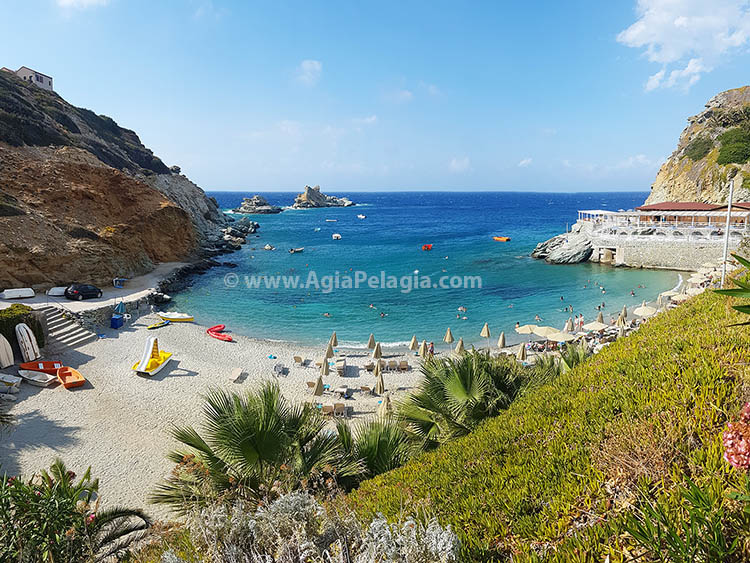 About Made beach on Crete Island
(Agia Pelagia)
You will find Made beach (also called Mades) by taking a small track road. In fact, you could easily come to Agia Pelagia and miss this beach altogether. Made beach is hidden just around the bay from Lygaria beach (its a 22' walk from Lygaria - 1,5 km east of the Lygaria beach ecosystem). This is a pretty little spot which offers good swimming and snorkelling due to the sheltering provided by the rocks. Palms and plants with brightly coloured flowers provide pops of colour as you look down onto the beach.
The beach of Made is located just 20 km northwest of Heraklion and a 4 km driving (10m) from the main beach of the area, Agia Pelagia. It is a small, beautiful settlement with an equally small bay with pebbles, surrounded by many rocks. The way to get there is via the Heraklion-Rethymnon-Chania highway leading to Lygaria. It is a quiet beach and ideal particularly for snorkelling and fishing too besides sunbathing and swimming.

To the right of the coast is the Cape Trypiti. A characteristic point of Made beach is the two big rocks on the west (left) side of the beach. There are few rooms for rent, and a mini market while for eating you can find several options in the beach bar of ATHINA Palace Resort & Spa Hotel 5* which is at the right side of the beach, or alternatively visit the tavernas of the nearby beach of Lygaria.
The beach of Mades is not that long, there are much longer beaches in the area of Agia Pelagia, it is just 77 m long - but its quite wide. The coast that occupies the Made bay has an average width of 20m and north orientation.
Made beach is an organized sandy beach and has deck chairs, umbrellas, showers, bins and waste baskets.
The beach has Lifeguards.
A Kiosk is available and offers drinks and food.
Pets are allowed on the beach.
The beach can accommodate about 250 people.

You will notice a large luxurious hotel to the right hand side (Athina Palace Hotel) and its residents make the convenient wander down to spend a day relaxing in the beautiful sunshine. There are sunbeds and parasols for hire as well as canoes and pedalos if you are feeling more adventurous!

Parking is available.



Made Beach is a beach awarded with a BLUE FLAG: A world-renowned eco-label trusted by millions around the globe. The Blue Flag beach classification programme is operated under the auspices of the Foundation for Environmental Education and is headquartered in Copenhagen, Denmark. In order for a beach to qualify for this prestigious award, a series of stringent environmental, educational, safety-related and access-related criteria must be met and maintained.
BLUE FLAG BEACHES - Mades Beach in Agia Pelagia CRETE
"the Blue Flag Beach is sought for beaches, marinas and sustainable boating tourism operatros as an indication of their high environmental and quality standards. Certificates, which FEE refers to as Awards, are issued on an annual basis to beaches and marinas of FEE member countries": Blue Flag Beach - WIKIPEDIA
Made beach - driving directions
More driving directions, details and MAPS of Made bay, CLICK HERE
Made WEATHER Report & Forecast