About FYLAKES beach (Agia Pelagia area) Crete
Fylakes beach is small but perfectly formed and definitely the jewel in Agia Pelagia's crown. This beautiful little beach is more of a cove than a beach and has the impressive backdrop of the lush green and perfectly landscaped gardens of the adjoining luxurious 5 star hotel (Out of the Blue - CAPSIS ELITE RESORT & Spa HOTEL). Its not an organised beach and you will not find sunbeds and umbrellas here - but this is more of an advantage, the area looks unspoiled, the way this little beach is formed isolates your view from anything human constructed nearby - its a very natural cove, really beautyfull with excellent views to the hills and the villas far away in the opposite direction, in the right side of Agia Pelagia beach. Apart from the stairs helping the guests of the hotel builded on the peninsula above the beach to reach this spot, there is nothing artificial in proximity (these are out of your sight), you will feel like being in an isolated spot far away, all though you are just 40m away from the Capsis Elite Resort & Spa hotel buildings and 110m from the beach of Agia Pelagia (the main - larger beach of the area).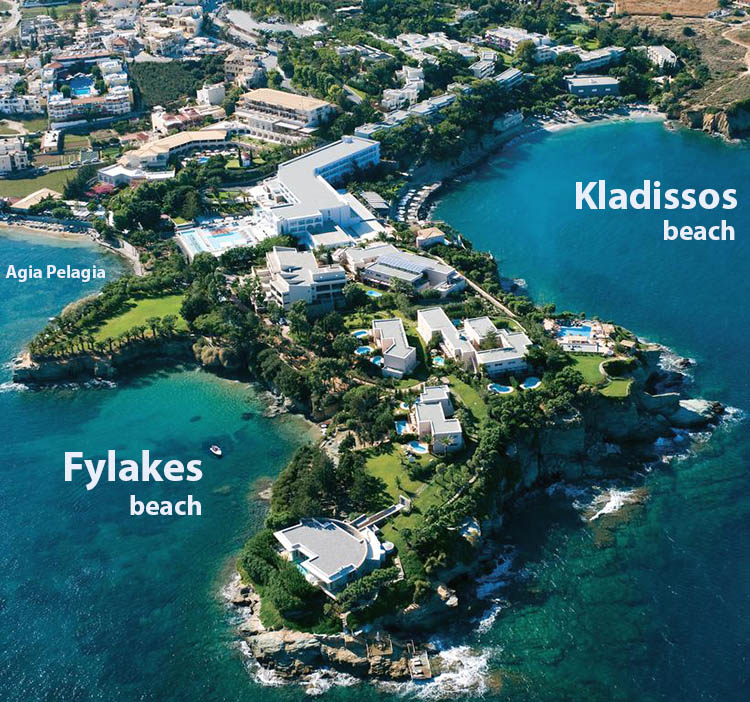 Guests of the hotel can access the beach down a convenient flight of steps. Non residents need to pluck up courage to access this gem by taking a short walk from Agia Pelagia beach across the rocks. For the last couple dozen meters the path is narrow and somewhat precarious and much care should be taken.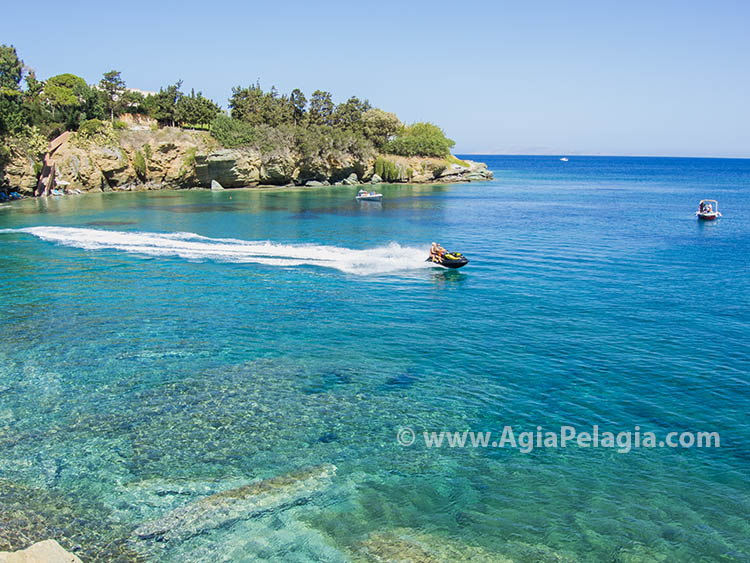 Some people take the opportunity to jump into the gorgeous water here from high up on the rocks but it is highly reccomended to avoid this, noting that some adventurous tourists have sustained serious injuries when jumping, a few even being left handicapped. If you do decide to take the plunge, DO NOT dive in head first - the waters are not deep enough to make it safe. Some visitors choose to shimmy down the rocks but again this is tricky and the journey back up is near impossible. The best way would be swimming the last 50m from Agia Pelagia beach (close from the little chapel located at the left side of the beach of Agia Pelagia) to reach to the beach of Fylakes. Or taking a pedalo, canoe, or hiring a small boat to get access, if you are feeling fit just swim or snorkel from the beach of Agia Pelagia.
The beach of Fylakes is formed by three small coves and its about 90m long. On the wider one of all three there is space for about 12 people to lay on the sandy part, but there are several spots for laying also on the rocky parts on the right and mostly the left side of the beach.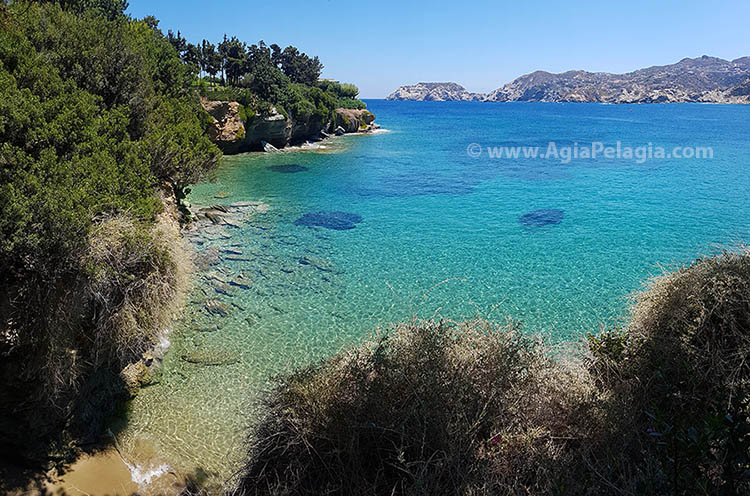 Fylakes WEATHER Report & Forecast
TRANSPORTATION

Book FERRY Tickets online
Book FLIGHTS online

BUS Service
Taxi Service
Rent a Car