ACHLADA Village
FODELE Village & FODELE Beach
The area of Agia Pelagia is home of some of the best beaches on Crete!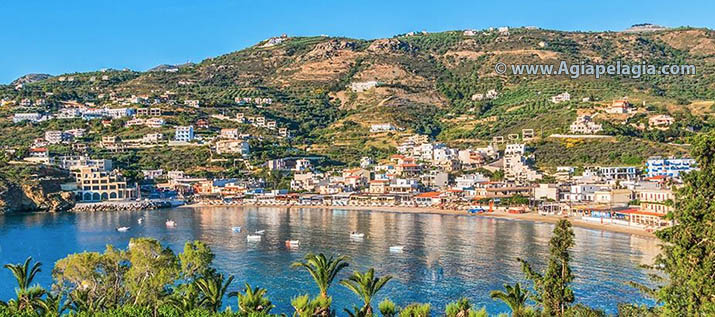 Agia Pelagia is a seaside fishing village built in the centre of a picturesque amphitheatric bay, it is located on the north coast of Crete at 23km northwest from Heraklion (or Herakleion, or also spelled Iraklion / Iraklio), capital city of the Island of Crete and distants 25 km from the International Airport of Heraklion (Nikos Kazantzakis) and 23km from the ferry port of Heraklion.
In the village you can find many taverns, offering traditional but also international dishes, bars, cafes, shops and boutiques, which will invite you to exciting short walks through the little streets.
Surrounded by mountains and hills, Agia Pelagia lies right in the middle of Crete (which makes it easy to be used as a base for tours and excursions around Crete island), with about 9 smaller sandy and/or rocky beaches (except of the central bay - Agia Pelagia) reached easily by feet for those who prefer more space and privacy rather than big / busier beaches.
MORE INFORMATION and PHOTOS about AGIA PELAGIA bay - click here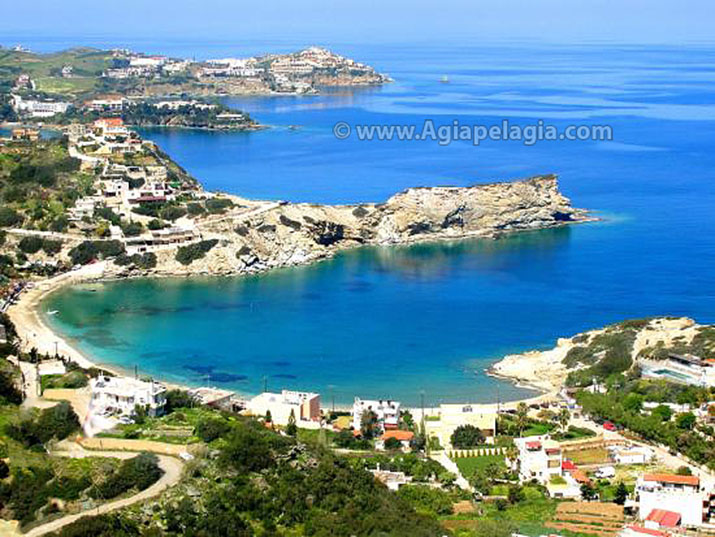 The bay of Lygaria (or Ligaria) has the second biggest (longest) beach in the area of Agia Pelagia. Lygaria has a long beach and very wide (its the widest beach in the area), usually much less busy, a sandy beach with crystal clear waters where you can enjoy much more space compared to the other beaches in the area of Agia Pelagia: Agia Pelagia, Mononaftis, Psaromoura, Fylakes, Kladissos, Made. Lygaria beach is usually not crowded, especially during the week days, while during weekends it can become more busy - as its the prefered beach by locals that arrive from the nearby city of Heraklion - but its still very enjoyable.

The name of the Lygaria bay is originating from the wicker tree "Lygaria" or "Ligia" which covers the area. Lygaria is an area of special beauty; hills with small fertile valleys. Lygaria (also spelled "Ligaria") was used for anchoring ships.

The sacred temple of the Panagia of Lygariani is located 250m from the edge of a hill.

At the beach of Lygaria there are several apartments for rent and hotels, rent rooms, few cozy cafes and excellent taverns as well as souvenir shops and one supermarket. The settlement offers the opportunity for enjoyable and relaxing holidays and is particularly suited for family holidays. In Lygaria beach there are among the finest villas and houses for rent in the area of Agia Pelagia holiday resort.

Lygaria is a a calm beach, with lots of space, protected from winds, a sandy beach with crystal clear waters. Ideal for families and couples that seek a nice and relaxing beach.
MORE INFORMATION and PHOTOS about LYGARIA bay - click here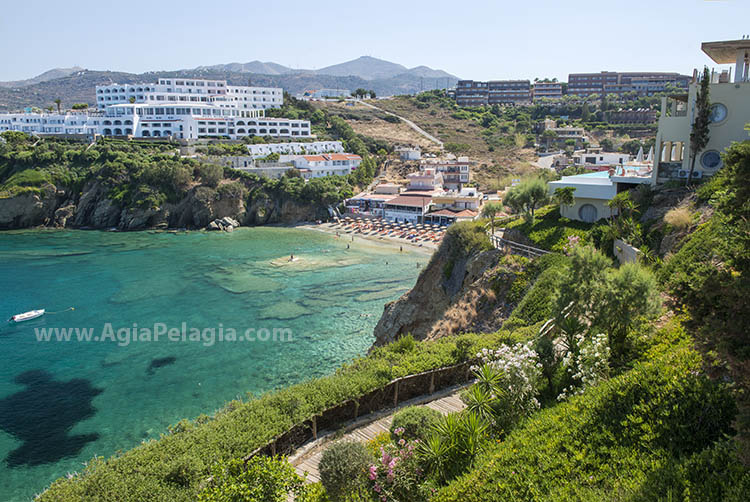 Mononaftis literally translates as 'lonely sailor' and is an organised beach with a casual laid back kind of vibe. The straw beach umbrellas give the place a retro feel and this is part of the charm of the place, although there are good amenities with changing hut, showers and a lifeguard. Mononaftis is a small beach and is often very busy but this doesn't affect the relaxed atmosphere. It has a good sprinkling of tavernas serving good honest greek food and beach bars selling burgers, salads, pizza and ice cream! You will also find a few well stocked mini markets and souvenir shops selling t-shirts, ceramics and other little trinkets. There is actually everything you need at Mono and so you don't have to walk very far at all for anything - perfect for a beach bum kind of day! The bay here is often used for diving due to the rich sealife in the area, home to sea sponges, eels, octopus, stingray and groupers.
MORE INFORMATION and PHOTOS about MONONAFTIS bay - click here
Psaromoura Beach is situated at the western end of the Agia Pelagia region and literally translates as fish face bay, It is a hidden treasure boasting sparkling waters and beautiful views. The beach is reached by one road which takes you through many fields where locals grow vegetables such as courgettes and aubergines. It is a change to see from the regular fields of olive trees and vines which are not so well suited to the sea air here.

As you approach the bay you will pass several tavernas, cool cafe bars, small and large hotels. The road is quite narrow and parking is limited but do not let this put you off as you will not be disappointed. There is a steep walk down to the beach, which means a steep walk back up but it is definitely worth making the effort. Before you start your journey down, take a moment to stand and admire the breathtaking scenery. It is worth mentioning that there is a small snack bar on the beach so you really have everything you need if you want to spend the day there. Psaromoura Beach is small and perfectly formed, offers sunbeds and parasols and fantastic swimming and snorkelling in clear, calm, sheltered waters.

There is a water sports facility on the beach offering pedalo boat and paddleboard hire or you can simply sit back and enjoy an ice cold beer from the beach bar. At the end of the day what better way to recover from the steep walk back up from the beach, than to sit and enjoy a cocktail or dinner at one of the bars or restaurants.

Psaramoura truly is picture postcard perfect!
MORE INFORMATION and PHOTOS about PSAROMOURA bay - click here
You will find Made beach by taking a small track road. In fact, you could easily come to Agia Pelagia and miss this beach altogether. Made is hidden just around the bay from Lygaria beach. This is a pretty little spot which offers good swimming and snorkelling due to the sheltering provided by the rocks. Palms and plants with brightly coloured flowers provide pops of colour as you look down onto the beach. You will notice a large hotel to the right hand side and its residents make the convenient wander down to spend a day relaxing in the beautiful sunshine. There are sunbeds and parasols for hire as well as canoes and pedalos if you are feeling more adventurous!
MORE INFORMATION and PHOTOS about MADE (MADES) bay - click here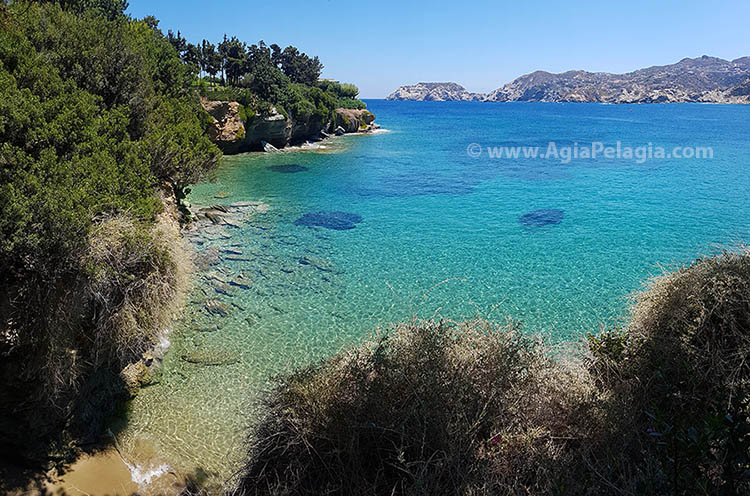 Fylakes beach is small but perfectly formed and definitely the jewel in Agia Pelagia's crown. This beautiful little beach is more of a cove/inlet than a beach and has the impressive backdrop of the lush green and perfectly landscaped gardens of the adjoining 5 star hotel. Guests of the hotel can access the beach down a convenient flight of steps. Non residents need to pluck up courage to access this gem by taking a short walk from Agia Pelagia beach across the rocks. The narrow path is somewhat precarious and care should be taken. The best way to reach to the beach of Fulakes is by taking a pedalo, canoe, or hiring a small boat to get access, or if you are feeling fit, swim or snorkel from Agia Pelagia beach.
MORE INFORMATION and PHOTOS about FYLAKES beach - click here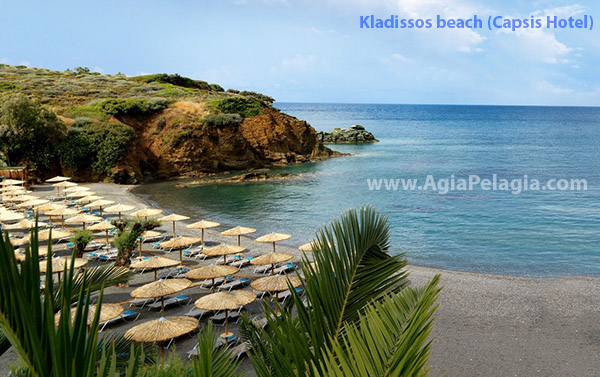 Kladissos beach could easily be mistaken as a private beach but non residents of the adjoining 5 star hotel are certainly welcome. Kladissos is a very organised beach all implemented with luxurious and great taste by the exclusive resort hotel Capsis (Out of the Blue Elite Resort & Spa) and therefore sunbeds and parasols are more expensive than you usually pay on other beaches. Then again, if you want to treat yourself to an exclusive beach resort experience for the day, why not indulge? You'll be sure to beat the crowds and you can take full advantage of the waiter service from the hotel beach bar and the beach restaurants.
MORE INFORMATION and PHOTOS about KLADISSOS beach - click here