TRANSPORTATION
Book FERRY Tickets online
Book FLIGHTS online
BUS Service
Taxi Service
Rent a Car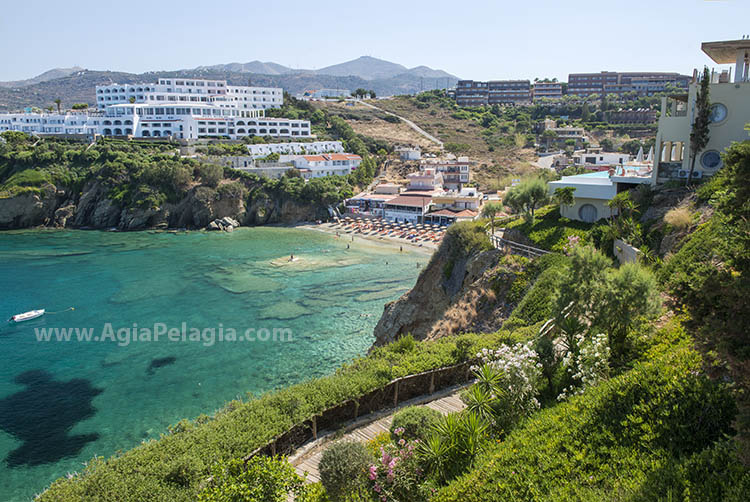 About Mononaftis beach (Agia Pelagia area) on Crete
Mononaftis (its name literally translates as 'lonely sailor') is an organised beach with a casual laid back kind of vibe. The straw beach umbrellas give the place a retro feel and this is part of the charm of the place, although there are good amenities with changing hut, showers and a lifeguard. The beach of Mononaftis is a small beach and may often be very busy but this doesn't affect the relaxed atmosphere. The beach is 80m long, with crystal clear waters which deepen suddenly. Its a sandy beach with small pebbles and randomly rocky seabed in some parts.
According to the tradition, a shipwreck was once here and only one sailor was saved, giving this name to the beach. However, Mononaut is a large rock on the east side of the beach that reaches the surface a few meters from the coast. Mononaftis beach is located in the northernmost part of Agia Pelagia area and is protected by the northern winds as it looks east. This makes Mononaftis, but also the several beaches in this area, very popular with the locals, especially when the northwest wind blows.
Just at a few meters distance from the beach there is good sprinkling of tavernas serving good honest greek food and beach bars selling also burgers, salads, pizza and ice cream. You will also find a few well stocked mini markets and souvenir shops selling t-shirts, ceramics and other little trinkets.

There is actually everything you need at Mononaftis and so you don't have to walk very far at all for anything - perfect for a beach bum kind of day! The bay of Mononaftis is often used for diving due to the rich sealife in the area, home to sea sponges, eels, octopus, stingray and groupers. Right there on the beach front there is indeed a Diving Center. And if you wish to hire a boat and explore more in the area there is also at Mononaftis another station of Blue Water Club - Rent a Boat Services.

There are several apartments for rent in the area, some holiday villas, a travel agency and three luxurious hotels: Peninsula Resort & Spa Hotel, Sea Side Resort & SPA Hotel and Blue Bay Resort Hotel (find more info and hotel booking options here).

The beach of Mononaftis is the 4th longest beach of the area of Agia Pelagia, about 92m long.

Mononaftis beach confinies southwards with the "Tsimento Peninsula Beach" and Psaromoura Beach, both in very close proximity, at a walking distance, both of which are amazing beaches and absolutely worth visiting too. The beach of Mononaftis is just 1,6 km (23m walk) from the main beach of the area - Agia Pelagia beach - and 24km (30m drive) from the city of Heraklion (see all the main beaches at Agia Pelagia area here).

Parking is available but limited. It is advisable to arrive relatively early on morning (before 10:00) in order to secure a good spot at the beach of Mononaftis.
Mononaftis beach - driving directions
More driving directions, details and MAPS of Mononaftis bay, CLICK HERE