About
Kladissos
beach (Agia Pelagia) on Crete
Kladissos beach could easily be mistaken as a private beach but non residents of the adjoining 5 star hotel are certainly welcome. Kladissos is a very organised beach all implemented with luxurious and great taste by the exclusive resort hotel Capsis (Out of the Blue - Capsis Elite Resort & Spa Hotel) and therefore sunbeds and parasols are more expensive than you usually pay on other beaches. Then again, if you want to treat yourself to an exclusive beach resort experience for the day, why not indulge?

You'll be sure to beat the crowds and you can take full advantage of the waiter service from the hotel Beach Bar and the beach restaurants. So sit back, relax and sample some expertly mixed cocktails and fantastic food delivered direct to your sun lounger. Well, you are on holiday! The beach bar area is also home to a cool shisha hangout complete with every shisha flavour you can think of.
There are watersports and there's also lots of fun to be had on the beach's large water based inflatables.

The beach of Kladissos is the 3rd longest beach of the area, about 270m long.

Access to Kladissos beach is on foot via the Capsis Hotel either from the far end of Agia Pelagia beach or the main hotel entrance. If you get stuck, ask a friendly member of the Capsis team for help.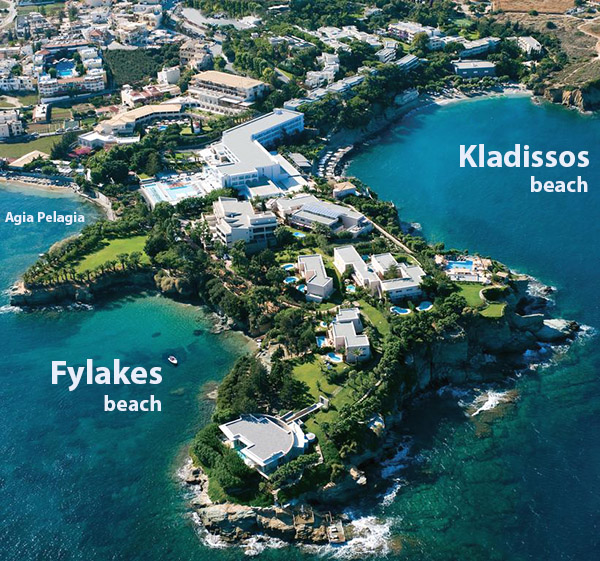 More driving directions, details and MAPS of Kladissos bay, CLICK HERE
List of Luxury Vacation Hotels in Agia Pelagia CRETE