History of Agia Pelagia on the island of Crete, GREECE
Agia Pelagia takes its name from the homonymous church, in the Monastery of the Sebbathians, ruins of which are found at a distance of 1 km west of Agia Pelagia village. During the last 30 years, the resort has known a tourist development and became a very popular holiday resort as its sandy beaches attract many visitors who find here all kinds of services. From Agia Pelagia you can visit the post-minoan graves and the University (Prytaneion) of the 4th century B.C. which were found in 1970 at the site Kladistos (or Kladotos/Kladissos) and support the view that this was the site of the ancient city of Apollonia. Worth visiting is also the nearby cave (right on the north side of the beach of Agia Pelagia), with the name "Evresi", where - according to the legend - local people found the icon of Agia Pelagia (Santa Marina)
Near Agia Pelagia you will find very important Archaeological places to visit, like the Minoan Palace of Knossos, the Archaeological Museum of Heraklion (25km away) , as well as the traditional villages of Achlada, Fodele, Rogdia and Anogeia up to the highest mountain of Crete "Psiloritis" (2.456m high).
In the place where the village of Agia Pelagia is located there existed an old Minoan city (inhabited from about 2.000 BC) - Apollonia. Some believe that in Agia Pelagia was actually located tha ancient city of Panormos.
There were several vestiges dated between 1.700BC and 1.300BC, when the inhabitants had relations with Festos (Festus), Knossos and cites from the Cyclades islands. The city was destroyed by a fire circa 1.200BC, but was later reoccupied.

Archaeological finds at Cape Souda, near Evresi Cave, were considered by the archeologist Sir Arthur Evans to be the best preserved of a Minoan port. Many of the ceramics collected in Agia Pelagia are currently in the Ashmolean Museum in Oxford, England. After the initial excavations of Sir Arthur Evans, new excavations were begun in 1979. Before that, in 1970, in the place of Kladistos (post-Minoan) tombs and the so-called "University" or Pritanion (Prytaneion) were discovered (seat of the government of the city, where the assembly of the city worked and the gym, a building decorated with red and yellow bands and white pavements). For some academics, these ruins support the hypothesis that the ancient city of Apollonia (Ἀπολλωνία in Greek) was located at Cape Souda, although the ruins may also be of ancient Panormos. Ancient Apollonia was an important city during the Hellenistic period (mid 4th century BC), which was destroyed in 171BC during a fierce attack by the ancient allies of Kydonia (or Cydonia). The most important remains cover a vast area and include large water tanks (for ship supplies), a Roman aqueduct, inscribed tombs, a guesthouse, towers and fortifications. The ruins were only partially excavated and are partially covered with vegetation.
Other finds were made in the region, such as ceramics, copper coins from various cities (Gortyna, Oaxos, Arcadia, etc.), coins of Apollonia (with Apollo's effigy and a palm branch), urns, wine containers and utensils related to the production of olives. Semiprecious stones used in the manufacture of objects that are currently on display at the Archaeological Museum of Heraklion, come from the Agia Pelagia area excavations.

During the Venetian period, Agia Pelagia was one of the most important ports in the region. During the Ottoman siege of Candia (Heraclion), it was used to provide aid to the besieged. After the Ottoman conquest, the Turks built a fort, of which there are no remains today. It was in Agia Pelagia that the famous steamship Arkadi anchored during the Cretan Revolt of 1866-1869 to provide ammunition to the Cretan rebels.

Until 1965, Agia Pelagia was little more than a small port where wood and coal were loaded for Heraklion.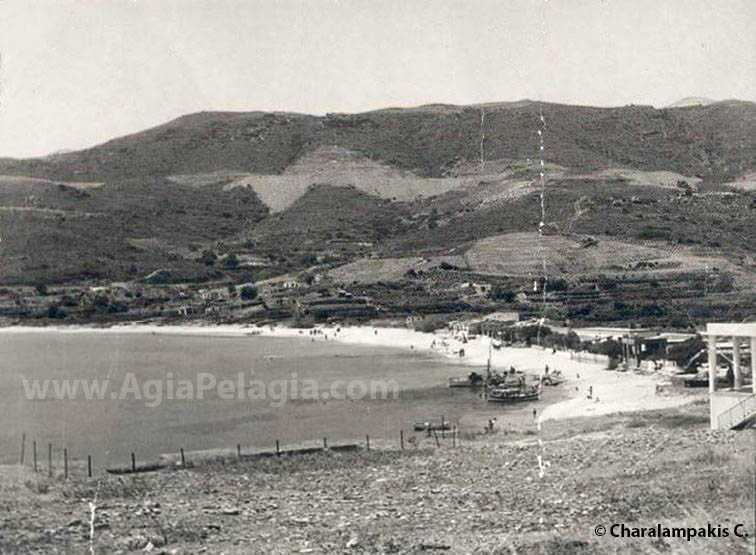 TRANSPORTATION
Book FERRY Tickets online
Book FLIGHTS online