WEATHER FORECAST on Agia Pelagia, island of Crete, GREECE


Weather Repots - Agia Pelagia holiday resort
Agia Pelagia Crete Weather
The island of Crete is the southernmost of the Greek islands (and the biggest), Crete island together with the island of Rhodes have the highest number of average days of sunshine a year (300 avarage days of sunshine). The climate on Crete is a few degrees warmer than mainland Greece and other islands. Gavdos island, one of Crete's satellites, is the southernmost place in Europe.
Agia Pelagia (Crete) at the 35th parallel, 3.379 km from the equator, enjoys an excellent climate and from April to November you can be quite sure you will enjoy an great weather during your holidays. Summer on Crete lasts almost six months, ten months a year of sunshine on average (sunshine duration per day is 7.3 hours on average), average annual temperature of 18.5 C, average annual sea water temperature of 19.4 C.
Crete is an ideal place for vacation, sport, entertainment, relaxation and excursions throughout the year (in winter time you will be particularly amazed by the landcapes and the unique colors the island offers and the very rich and particular flora - Crete is home to a particularly rich flora including 1.893 documented plant species of which 159 are endemic to the island). Pleasant summer, golden sunshine in spring and autumn, mild winter, are the characteristics of the climate on Crete island.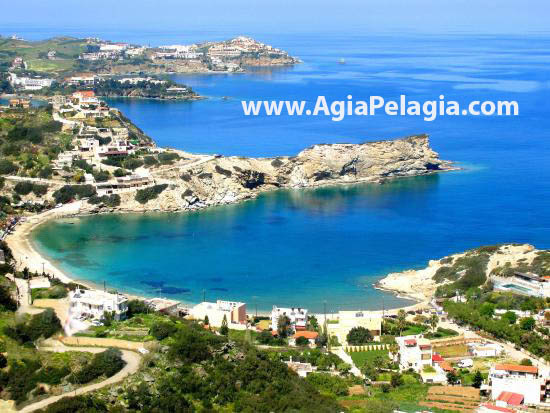 In Agia Pelagia/Crete the swimming season is usually from April to November (for most people - apart some that habitually or occassionaly swim all year round). During those months, the water temperature in Agia Pelagia area (Agia Pelagia bay, Lygaria bay, Made, Mononaftis, Kladissos beach, etc)
does not drop below 20°C/68°F
The weather reporting institutes and companies compile weather reports and forecasts for Agia Pelagia using satellite data beside with in-situ observations in order to have most reliable daily data of sea surface temperatures, water temperatures, surf forecasts, current weather and weather forecasts.
Agia Pelagia Weather: May (average)
average Day Temperature: 23.5°C
average Night Temperature: 16.6°C
Sea Water Temperature: 19.7°C
Number of Sunny Days: 29 days
Sunshine Hours: 13.6 - 14.4 hours
Number of Rainy Days: 2 days
Precipitation Totals: 25.8 mm
(coastal surface water temperature in Agia Pelagia)
Agia Pelagia - Current Sea Temperature: 20,1°C
Maximum sea water temperature in May: 21.7°C
Minimum sea water temperature in May: 17.4°C
Average sea water temperature in May: 19.7°C
Minimum/Maximum SEA WATER TEMPERATURES in Agia Pelagia - CLIMATE STATISTICS
sea water temperature in Agia Pelagia by month - in CELCIUM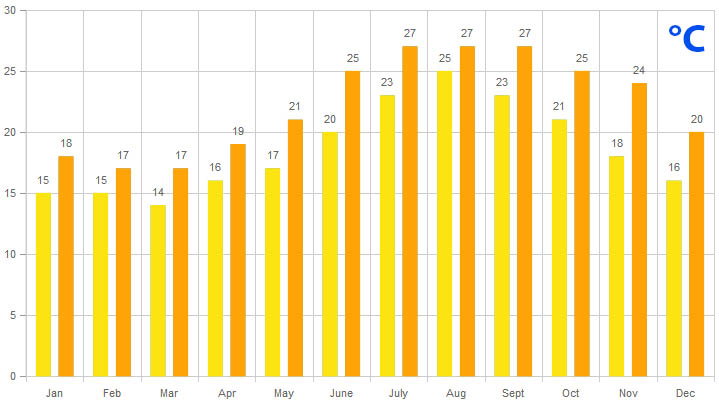 sea water temperature in Agia Pelagia by month - in FAHRENHEIT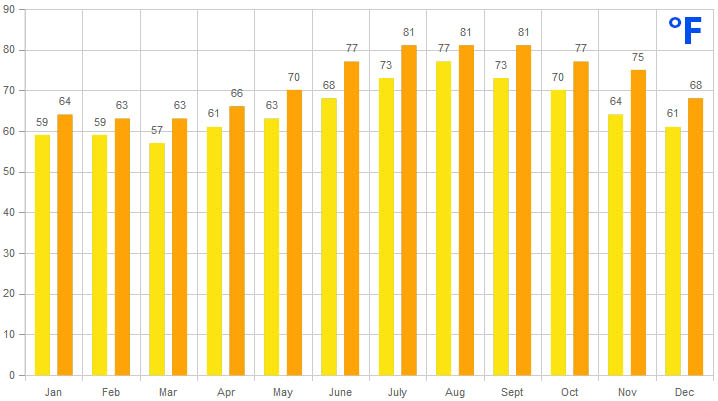 The average sea surface temperature in May 2017 for Agia Pelagia was 19.6°C. The maximum and minimum values were 18.0°C and 20.6°C respectively.
Almost all days in May are sunny. There is very low probability of clouds or gloomy days.
The below climate data, charts and diagrams are based on 30 years of weather data and can give good indications
of typical climate patterns and expected weather conditions on Agia Pelagia (Crete)
(air temperature, sea temperature, rain precipitation, humidity, sunshine, wind)
AVERAGE WEATHER CONDITIONS - CLIMATE STATISTICS AGIA PELAGIA island of CRETE
Winter weather in Agia Pelagia - Summer weather in Agia Pelagia
| | | | | | | | |
| --- | --- | --- | --- | --- | --- | --- | --- |
| MONTH | Average Temperature (°C) | Min Temperature (°C) | Max Temperature (°C) | Average Relative Humidity (%) | Average Monthly Rain (mm) | Min Monthly Rain (mm) | Max Monthly Rain (mm) |
| January | 12 | 0.2 | 24.8 | 67.6 | 91.5 | 30.2 | 235.1 |
| February | 12.2 | 0.2 | 26.2 | 66.5 | 77.4 | 7.3 | 186.5 |
| March | 13.6 | 0.3 | 29.4 | 66.1 | 57.4 | 1.6 | 151.5 |
| April | 16.6 | 4.4 | 34.5 | 62 | 30 | 0 | 119.9 |
| May | 20.3 | 6 | 38 | 60.6 | 15.2 | 0 | 85 |
| June | 24.3 | 12.2 | 41.3 | 56.7 | 3.2 | 0 | 41.6 |
| July | 26.1 | 16.2 | 41 | 56.9 | 1 | 0 | 12.8 |
| August | 25.9 | 16.6 | 42 | 58.2 | 0.7 | 0 | 17.2 |
| September | 23.5 | 12.5 | 39.5 | 61.3 | 19.5 | 0 | 163 |
| October | 19.9 | 8.7 | 35.7 | 65.9 | 68.8 | 0 | 272.6 |
| November | 16.6 | 4.4 | 31.2 | 67.4 | 58.8 | 3.7 | 154.4 |
| December | 13.8 | 2.4 | 28.5 | 67.5 | 77.1 | 16.5 | 160.6 |
(the above weather data charts are provided from 30 years stats - weather.gr)
AVERAGE WEATHER CONDITIONS - CLIMATE STATISTICS AGIA PELAGIA island of CRETE
| | | | | | | | | |
| --- | --- | --- | --- | --- | --- | --- | --- | --- |
| MONTH | Average number of days with rain | Average number of days with storm | Average number of days with hail | Monthly average wind speed (m/sec) | Average number of days with stormy wind | Average sea level pressure (hPa) | Average sunshine (hours) | Average cloudiness (eighths) |
| January | 16.6 | 3.6 | 0.3 | 4.8 | 0.4 | 1016.8 | 116.4 | 5.3 |
| February | 14.5 | 3 | 0.6 | 5.1 | 0.5 | 1015.5 | 121 | 5.2 |
| March | 11.7 | 2.9 | 0.5 | 4.7 | 0.7 | 1014.8 | 177.5 | 4.6 |
| April | 7.5 | 1.8 | 0 | 4 | 0.4 | 1013.1 | 226.5 | 3.9 |
| May | 4.5 | 1.5 | 0.1 | 3.1 | 0.1 | 1013.5 | 301.2 | 3 |
| June | 1.4 | 0.9 | 0 | 3.3 | 0 | 1012.6 | 350.9 | 1.4 |
| July | 0.3 | 0.2 | 0 | 4.5 | 0 | 1011.1 | 371.9 | 0.7 |
| August | 0.4 | 0.1 | 0 | 4.6 | 0 | 1011.4 | 346.1 | 0.7 |
| September | 2.2 | 1.2 | 0 | 3.9 | 0 | 1014.6 | 280.9 | 1.7 |
| October | 8 | 4.1 | 0 | 3.9 | 0.1 | 1016.7 | 197.5 | 3.7 |
| November | 10.2 | 3.5 | 0 | 4.2 | 0.2 | 1017.6 | 149.2 | 4.4 |
| December | 15.1 | 4.4 | 0.3 | 4.8 | 0.2 | 1016.7 | 121.1 | 5 |
(the above weather data charts are provided from 30 years stats - weather.gr)
Average TEMPERATURES by MONTH - CLIMATE STATISTICS AGIA PELAGIA island of CRETE
| | | | | | | | | | | | | |
| --- | --- | --- | --- | --- | --- | --- | --- | --- | --- | --- | --- | --- |
| | January | February | March | April | May | June | July | August | September | October | November | December |
| High °C | 15 | 15 | 18 | 20 | 23 | 27 | 29 | 29 | 27 | 24 | 20 | 17 |
| Low °C | 10 | 9 | 10 | 12 | 16 | 20 | 23 | 23 | 20 | 17 | 14 | 11 |
| | | | | | | | | | | | | |
| | | | | | | | | | | | | |
| High °F | 59 | 59 | 64 | 68 | 73 | 81 | 84 | 84 | 81 | 75 | 68 | 63 |
| Low °F | 50 | 48 | 50 | 54 | 61 | 68 | 73 | 73 | 68 | 63 | 57 | 52 |
Maximum Temperatures diagram for Crete - shows on average how many days per month reach certain temperatures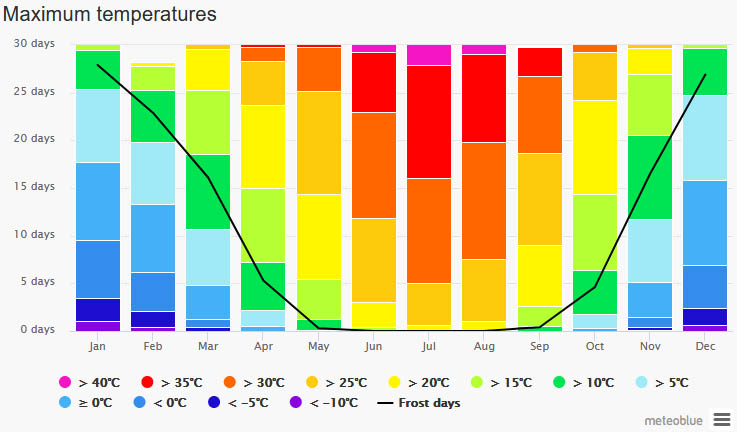 Winds diagram for Crete, average wind directions and intensity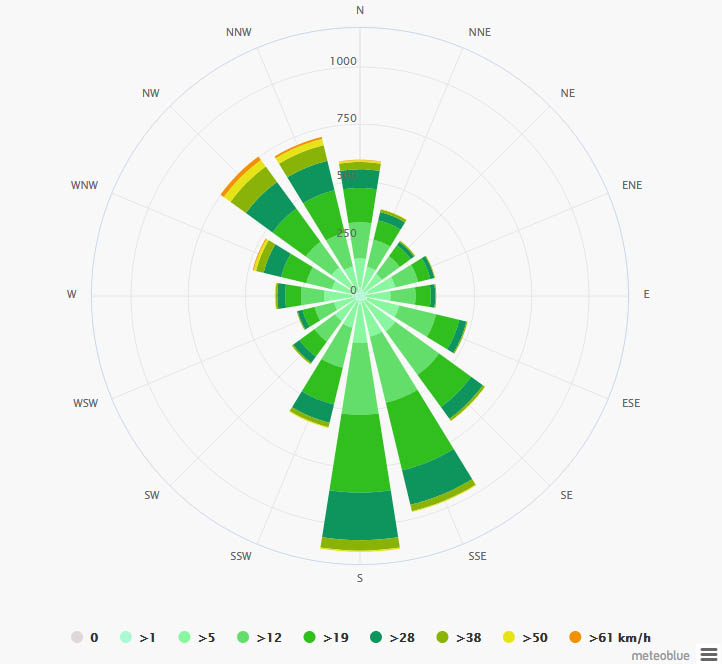 The wind diagram ("rose") for Crete - shows how many hours per year the wind blows from
the indicated direction and the winds intensity in km/h
Chance of RAIN by MONTH - CLIMATE STATISTICS AGIA PELAGIA island of CRETE, GREECE
| | | | | | | | | | | | | |
| --- | --- | --- | --- | --- | --- | --- | --- | --- | --- | --- | --- | --- |
| | January | February | March | April | May | June | July | August | September | October | November | December |
| % | 47% | 45% | 25% | 20% | 12% | 3% | 0% | 1% | 10% | 18% | 29% | 43% |
Chance of CLOUDY DAY by MONTH - CLIMATE STATISTICS AGIA PELAGIA island of CRETE, GREECE
| | | | | | | | | | | | | |
| --- | --- | --- | --- | --- | --- | --- | --- | --- | --- | --- | --- | --- |
| | January | February | March | April | May | June | July | August | September | October | November | December |
| % | 28% | 24% | 23% | 17% | 11% | 1% | 0% | 0% | 1% | 8% | 19% | 30% |
Weather Reports at the CRETAN Sea - CYCLADES Sea - DODECANESE Sea